RLC Picnic at Roof Park in New Cumberland
August 26, 2018
Captions by Katerina Di Raddo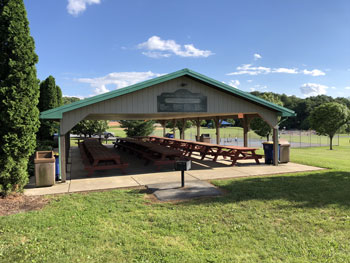 Click on image to enlarge
Click to go to: Page 1, Page 2, Page 3, Page 4, Page 5, Corn Hole 1, Corn Hole 2, Soccer
Click on individual photos for a larger view!


(Click your back arrow button to return to main page)




Dave Nicola, Donna Kelly and Christy Beane lead us into worship

Dave Nicola, Donna Kelly (center) and Christy Beane (left) lead us into worship

Our own beautiful Karen Flickinger standing in worship. She is an awesome woman of God and is one of the sweetest people on the face of the earth. I just love her heart!


Pastor Dave Di Raddo presents the Word- great way to start off the day!

No idea what's going on here...but Faith Nicola seems to be getting a kick out of it!

Awesome tee you got there Mike Hubler!

Either Pastor Dave got really boring or it is time for prayer! Second thought... those of us who know our Italian Pastor Dave Di Raddo realize it would be vastly difficult to be bored while he's a-preachin'!

Pictured from left foreground: Karen Flickinger, Sean Latanishen, Vance Crawford, Roxanne Crawford, Dave Booth and Cindy Howarth.

Pictured from right foreground: Joyce Tompkins, Will Eichenberger, Deb Eichenberger, Terry Watts, Susan Belles, Wilbur Fake, Miles Saksek, Brennan Saksek, Tara Saksek and Brooklynn Miller.

Pictured far right: Christy and Jeff Beane; Judy and Ed Swope

Here is one of our favorite guys, Mr. Dave Booth. He is an extraordinary person, strong and filled with kindness. He blesses us by coming early to service to fellowship and listen to the worshippers practicing. He is such a gift to this church. We love both of our Booth brothers. You will see Rod Booth in the Corn Hole Competion photos.

Dave is a man of many talents! If you get a chance, ask about his fast pitch softball days playing throughout the country and around the world with the King and His Court! What an exciting time!

Sweet, great ladies of the church- from left: Tara Lukmanji and Roxanne Crawford (our RLC newlywed). That's Roxanne showing off her beautiful wedding pics to Tara. Roxanne and her husband Vance are becoming such an important part of the church. Such quality, lovely people.

Tara has been an incredible blessing to me and this ministry over the years and is a such beautiful, kind lady. She is one in a million.

RLC's dynamic duo- Marjorie and Bill Reynolds

Bill's usually up to no good, but we love 'em anyway! We don't know how you do it Marjorie!

But...seriously, these two are amazing people and we are greatly blessed having them as part of RLC. They are never too busy to help.

RLC's big Mike and little Colleen Hubler. Super couple! Love their hearts. If you haven't met them as yet you are in for a treat! You won't find two greater blessings.

In the background- apparently some deep theological discussion going on between Sean Latanishen (in yellow and blue) and Pastor Dave.

Oh, pretty Liz Latanishen, we understand...there is no keeping up with little Michael 'scooter-tail' Latanishen! Girl...did you even get to eat?

Liz and her husband, Sean live in Maryland and visit us when they need their RLC fix! We love seeing them.
Click to go to: Page 1, Page 2, Page 3, Page 4, Page 5, Corn Hole 1, Corn Hole 2, Soccer